Skip to Content
PVC Roofing Systems for Western Washington
What You Need to Know About PVC Roofing Materials
At A-1 Roofing, we are keenly interested in offering our customers the best roofing options possible. We only work on and install quality roofing systems because we want to ensure that the roofs of our customers are secure—and that they'll stay that way for a long time. That's why we offer residential PVC roofing services in all Western Washington. We know PVC roofing systems are versatile options that can meet the demands of many residential and commercial properties. PVC stands for polyvinyl chloride. It is an extremely malleable material, and it comes in various thicknesses so it can be easily fitted to different kinds of roofs. PVC is a great option for flat roofing because it stands up well to tears and impacts and isn't as susceptible to pooling water as many other kinds of roofing materials are. A welded PVC roofing membrane can create a watertight, permanent bond that will protect your roof for a very long time. In fact, the longevity of PVC roofs is why many people in Western Washington choose to install them.
How Can PVC Membrane Waterproofing Benefit Your Building?
Did you know that a properly installed PVC roof can last for 30+ years? Longevity, and the fact that these kinds of roofing systems can be installed on virtually any kind of flat or low slope roof, are just a couple of the benefits PVC provides. Look at how else you stand to benefit: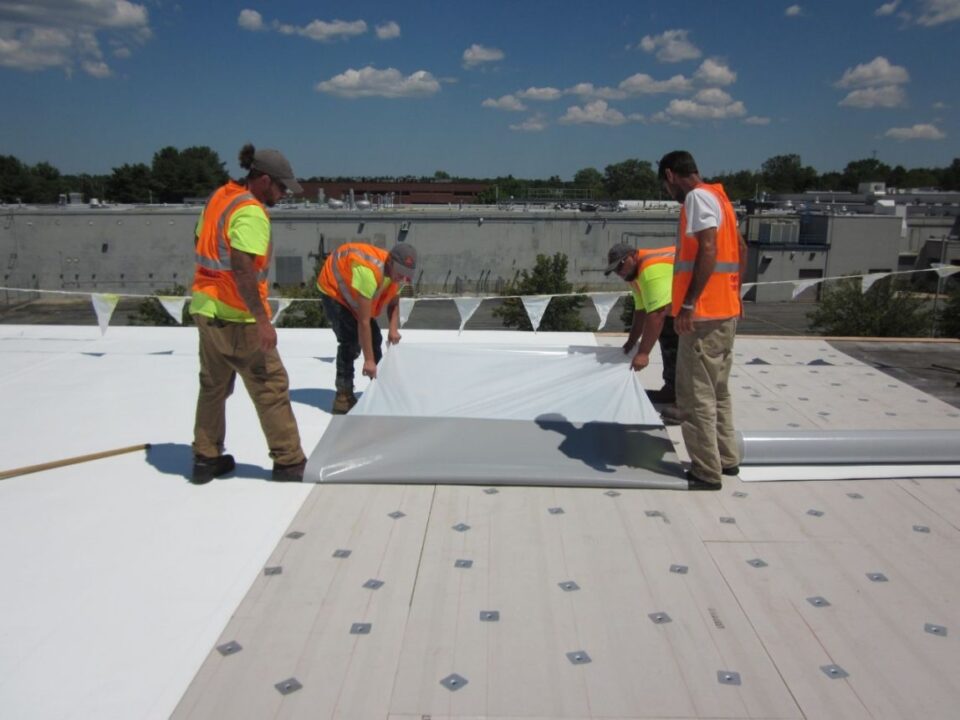 Tax Rebates – PVC is considered a "cool" roofing material, which means it can lower emissions by keeping your building cooler in hot weather. It can be made to be highly reflective, so it bounces more UV rays off your roof. This means that you may be entitled to tax rebates if you install a PVC roof on your building.
Savings – Not only are PVC roofing materials more affordable than other kinds, but PVC roofing can also save you money in the long run. By reflecting more sunlight off your roof, you won't have to run your AC as much in the summer months.
Watertight Seal – When PVC roofs are installed correctly, they create a watertight membrane over your roofing system. This makes them excellent for rain protection because the seams are hot air welded to shore up possible vulnerabilities. PVC roofing is also highly impact resistant.
Recyclable – If you are concerned about your impact on the environment, you should know that PVC roofing materials can be recycled repeatedly. This, coupled with the fact that they can improve the overall energy efficiency of your property, makes them very environmentally friendly.
The Best Choice for PVC Roofing in Western Washington
What makes us the best choice for PVC roofing in all Western Washington? We source our PVC roofing materials from local manufacturers who use recycled products. By working with local manufacturers, we can get our materials for a great price because the logistics are much simpler. Then, we pass those savings on to you. But beyond responsible manufacturers and great pricing, A-1 Roofing is the best choice for PVC roofing services because we insist on quality workmanship. A PVC roof will not stand the rigors of the elements if it hasn't been installed properly. We want every one of our customers to have a roof that will last for decades. For the best PVC roofing services in Western Washington, contact us today!
Quality Workmanship, Guaranteed Results