Skip to Content
Residential Metal Roofing in All of Western Washington
Your Residential Metal Roofing Contractor
Here at A-1 Roofing, we hang our hats on workmanship and professional results. Our commitment to excellence is especially evident in our residential metal roofing work. For over 50 years, we have been helping the citizens of Western Washington secure their homes, lower roof maintenance costs, and beautify their properties with top-quality metal roofing. In the Pacific Northwest, roofs take a beating from the rain and direct sunlight. A metal roof is a great option to protect your home. Metal roofing has superior longevity compared to shingles and can stand up to the rigors of our wet weather. That's why we offer metal roofing services—we know it to be a very smart roofing choice for Western Washington. If you're worried about metal roof cost, we want you to know that we offer very competitive rates for metal roof installation and repair. Get the roof you have always wanted by working with us here at A-1 Roofing!
Types of Metal Roofs We Work On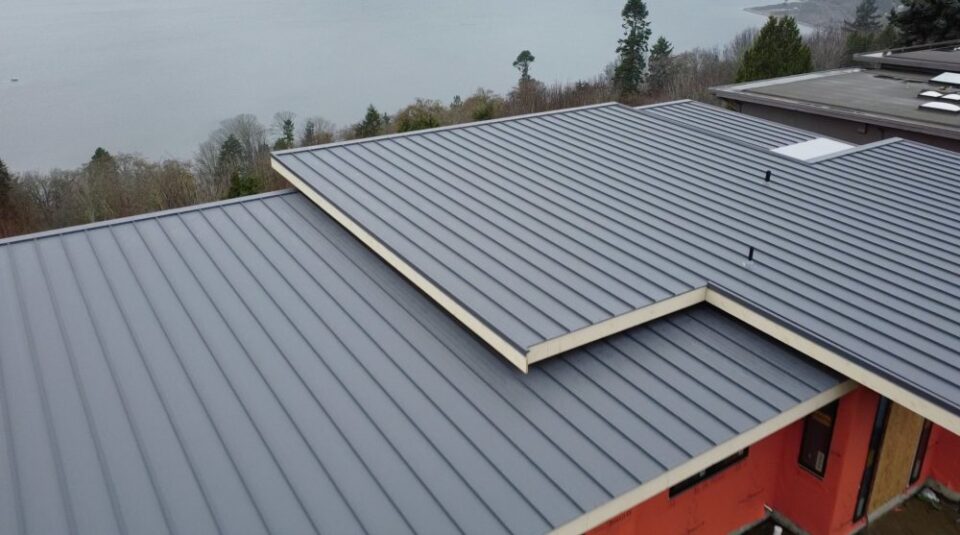 You can always count on quality installation and repairs here at A-1 Roofing. But you may be wondering what kind of metal roofs we work on. The short answer is only the very best. But to get into more detail, check out the following breakdown of our metal roof service:
Standing Seam Metal Roofs – Standing seam metal roofs elevate the normally vulnerable seam made by adjoining roofing panels above the actual roofline. This offers superior protection against leaks and lends a clean, modern look to your home.
Ironwood Roofing – Not a fan of the look of metal roofing panels? That's not a problem when you work with us. Our ironwood roofing combines the classic, aesthetic appeal of cedar with the unbeatable durability of steel.
Metal Shake Roofing – Metal shake roofing offers the classic look of natural shake shingles, but with enhanced durability and energy efficiency.
What Are the Benefits of Metal Roofing?
Most people opt for metal roofs because they look beautiful, and they last a long time. It's a great investment as some metal roofs can last more than 50 years. But even aside from these appealing benefits, there is more that metal roofs bring to the table.
Low Maintenance Roofing – Metal roofs won't deteriorate or discolor over time the way shingle roofs do. They also require less professional maintenance, which means more savings for you.
Lightweight Materials – Metal shingles and roofing panels are much lighter than natural stone and even tiles. This makes installation more affordable and puts less strain on the structure.
Aesthetic Appeal – Metal roofing comes in a huge array of colors, styles, and finishes. You can easily achieve the aesthetic you want for your property by using metal roofing materials. Many people find that metal roofing also boosts the curb appeal of their homes.
Cool Roofing – Metal roofs are UV reflective, which means they can keep your property cool in the warmer summer months. This will help lower your utility bills. Plus, many metal roofs are made from recycled materials so they are a sustainable roofing choice.
Why Choose Us
Here at A-1 Roofing, we have all your roofing needs covered. From mobile homes to residential businesses, we can help you maintain and repair your current roof or install a new one for you. We service all Western Washington, and we use nothing, but premium materials sourced by local manufacturers. We want the quality of our work to shine through the roofing projects we complete. For a better-looking and more secure metal roof, you can contact us today!
Quality Workmanship, Guaranteed Results